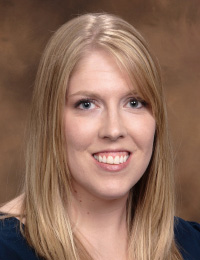 Dr. Pyle received her Bachelor's degree in Biology from Central College in Pella, IA and received her Doctor of Podiatric Medicine from the Des Moines University College of Podiatry Medicine and Surgery. She completed a three year residency at the Southern Arizona VA Healthcare System in Tucson, AZ.​
She has interests in all aspects of podiatric medicine. She is on staff at Centerpoint Medical Center, Research Medical Center, St. Mary's Surgical Center, Truman Medical Center - Lakewood, and Lafayette Regional Medical Center. Dr. Pyle is a member of the American Podiatry Medical Association.​
In her spare time Dr. Pyle enjoys spending time with family and friends, cooking, being active and trying new things.
Dr. Pyle's Patient Reviews
What a pleasurable experience! Dr. Pyle was awesome as was the Front Desk! I came in to make an appointment, and they figured a way to work me in to see Dr. Pyle! You ALL are wonderful! Thank you! – Rusty
Great little office. Fit me in last minute without a fuss. The podiatrist that saw me was great. Dr. Pyle explained everything so I could easily understand. Most of all, I felt taken care of. – Beth